Back to School Special
Issue #3 with an all-new Popular Posts section
Happy Tuesday / almost September + Welcome to all the new subscribers. So glad you're here.
SABA SAYS ::: GO EXPLORE
Earlier this year, I was flown out to Melbourne to speak at Deakin University - where I obtained a bulk of my education. They wanted me to share my perspective of entrepreneurship and startups, and "How I Got The Best Job In The World".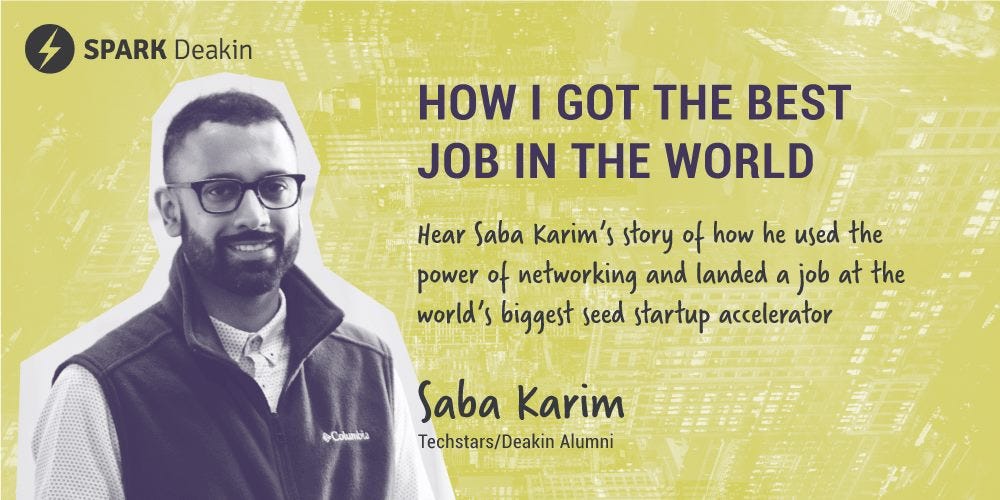 There's not much more special then being able to give back to the institution that helped you get to where you are today. Such an honor.
Anyway, what I learnt whilst being there is that Melbourne is on the rise after a cold start for a few years. The number of coworking spaces popping up everywhere is skyrocketing, and Universities are finally investing into incubator and pre-accelerator initiatives to help it's students innovate.
It's no wonder, Techstars also announced its first Accelerator in Melbourne. Geared towards startups focused on SportsTech, the program is supported by partners LaunchVic, Tennis Australia and Victoria University. Are you surprised though? Melbourne is the world's sporting capital after all.
All that to say, go for a trip down-under. It's all happening: sports and startups. And I promise the raining spiders thing is a lie.

SABA SAYS ::: STARTUPS RULE THE WORLD
Right now, I am utterly obsessed with Robinhood. The brand, the app, the democratization of investing... everything. It's never been easier to buy stocks. And with zero fees and commission? That's a steal. (pun intended)
Although, to be completely honest, I'm kind of wondering if I am buying the right stocks. Hence, question for you… do you buy stocks? How do you decide what to buy? Listen to the news? Read the Times? Get recommendations from friends? Or just follow your gut after using their products? I'd love to understand how you do it! Please reply!
SABA SAYS ::: READ THIS
Firstly, the way I see it is, a blog is something a writer spends 2-3 hours on, which puts together a few weeks of learning.
In a similar vein, a podcast or video episode is something a producer may spend 2-3 days on, which puts together a few months of learning.
But a book is something an author spend 2-3 years writing. Maybe 5-10 years. So, as much as I love blogs, videos and podcasts as the next person, books are where I find the most value. How do you compare a few weeks or months of learnings to years? (How ironic that you're reading this on a blog).
All that to say, I've had a busy month reading. And so here are my book recommendations:
TALKING ::: TECHSTARS
Yet another company rose to unicorn status from the Techstars portfolio. Check out techstars.com/companies/ to see our top 50 companies ranked by enterprise value.
Also, if you are a founder about to raise money, or an aspiring venture capitalist, I can't recommend Venture Deals enough. It's a course co-created by Brad Feld, a co-founder of Techstars. It's bonkers that anyone can take the course for free. It's starting in the first week of September, so sign up now.

POPULAR ::: POSTS
Twitter Poll: What's better? Being the smartest person people know? Or knowing all the smartest people? (The results may surprise you!)

LinkedIn Post (Trending): Things I look for in a startup + Some traits I look for in founders, that aren't as obvious.

THE ROSE ::: ACTIVITY
Bloom: I'm really proud of my consistency with my Sunday routine. 5pm - Start to wind down: switch off TV and all tech, 6pm - Jump in the hot tub, 7pm - Meditation and candles, 8pm - lights out and fast asleep by 9pm. It feels great to reset!

Thorn: Totally a first world problem…. I can't figure out how many credit cards I should have. Keep things simple for tax time and just have one? Or aim for two: one for personal and one for work? Or do I make the most of all the points, cash-backs, and airport lounge access - and carry 5-10? What do you do?

Bud: I am really looking forward to an upcoming vacation. I haven't been "off the grid" since starting in my current role at Techstars (which has been about 15-months), so I am looking forward to doing nothing next month!

What's your bloom, thorn and bud?

Saba